Hello and welcome to anyone who has arrived here, either by chance or intention.
This is the place where I usually write the stories behind the miniature steampunk characters and room boxes I create (or let the characters write their own!).  Hit the BLOG button to discover the stories.
As new characters or items appear on my craft stall or in the Etsy shop you'll find more about them here.
If you press the 'follow' button on this page, you'll get an email when a new article is posted.
At the top of the page (just under the banner) are tiny link buttons to things like my Facebook page and our Etsy shop where a wide variety of our characters and accessories can be found (and shipped worldwide).
I hope you enjoy your visit to the splendid world of Steampunk – Shrunk!
Items from Steampunk-Shrunk's unique collection are for sale at The Crispin Emporium, Street, Somerset and Magpie Vintage, High St, Midsomer Norton, BA3 2DA
Dates for Your Delectation
Here are the upcoming dates for Steampunk-Shrunk stalls around the country:
Saturday 21st March 2020 Best of Somerset Show, Town Hall, Wells, Somerset.
Sunday 26th July 2020  Steampunk Day, East Anglian Railway Museum, Chappel & Wakes Colne Station, Colchester, Essex.  10 – 4.30
Do come and pass the time of day with us, if you happen to be in the vicinity of any of those spiffing events.  We'd be delighted to meet you.
If you live too far from the events, do not despair!  There is a wonderful and ever-growing online emporium where you can browse a selection of our wares.  We ship all over the world.  Take a look now by clicking the link below: 
!!! STOP PRESS !!!
Very special price for the bundle of printable steampunk-themed books in our Etsy shop at the moment.  5 different titles with all you need to make them and full instructions delivered as PDF files, straight to your computer.
What Can I Buy?
Here is a list of some of what's available at Steampunk – Shrunk!, what it costs and where to get it.  Please note that all items are OOAK (one of a kind) which means you will be buying a unique object.
Room Boxes (further pictures and stories about the rooms available in the BLOG section)
Samurai Warrior –
1/12 scale poseable porcelain figure in bamboo display case with wooden helmet stand and helmet.  The sword can be removed from the scabbard and the helmet is removeable and can be placed on the warrior or his stand.  See this article for further details.
For sale at: Magpie Vintage
Price £35
The Engine Room – Cardboard carrying case with wood, card, metal and plastic interior. Includes battery operated flickering lamp in furnace.
For sale at: Steampunk – Shrunk miniatures stalls or direct from maker.
Price £58 + p&p
The Case of the Tinker's Time Machine – A little card case that opens up to reveal the tinker's workshop, complete with his latest creation – a partially built time machine – on the bench.  The room is crammed with details and the machine has multi-coloured flashing lights!
For sale on Etsy at the SteampunkDollsHouse
Price £85 +p&p
Figures (Further pictures and backstories are available in the BLOG section)
Penelope Fortescue – Aspiring inventor.  She's the lady on the left.  Her dowdy twin there shows how she looked before being steampunked.  Since the death of her husband, Penelope has distracted herself by tinkering in his study. Look carefully and you will notice that her beaded handbag is filled with some of the tools and components she has discovered there.
Find her here at the SteampunkDollsHouse
Price £28 +p&p
Hugo Fforbes – Third Steamic War veteran. Hugo wears handstitched clothes, including grey flannel trousers, a one-armed khaki shirt with medals and black cloak. His mechanical arm is constructed from metal tape and found objects with coiled wires.
He is available at the SteampunkDollsHouse.
Price £35 +p&p
George Entwistle Esq. – Tinker and handyman to the gentry.  George is a talented creator of time machines, several of which are hurtling through the ages and cosmos, even as you read these words.  George wears a leather apron, with hammer, pencil and a rag for cleaning the machinery in its pocket.  His goggles have a magnifying eypiece in one side to facilitate his meticulous tinkering.
For sale at:  The Crispin Emporium in Street, Somerset
Price £25
Books at 1:12 scale
Here, for information, is a list of all the books currently in print with links to their blog posts, so that you can read the scripts.  All can be supplied via mail order with p&p extra.
Note: DIY books are A4 sheets, printed with the full illustrated book and covers, with detailed information on how to construct it.   You will need scissors or knife, a glue stick and great patience!
All are usually available at Steampunk-Shrunk stalls (see above for dates and venues), direct from us via the contact form below or on Etsy.
Grimoire – A limited edition of 99 books, each individually compiled and aged.  A perfect addition to (almost) any dolls' house, witch room or diorama.  This volume contains spells and charms, including detailed instructions for creating the philosophers' stone and for travelling through time.
The text, minus illustrations, can be read in the BLOG section above.
For sale at: www.etsy.com/uk/shop/ SteampunkDollsHouse
Price £6.00 + p&p
Furniture (mostly at 1:12 scale)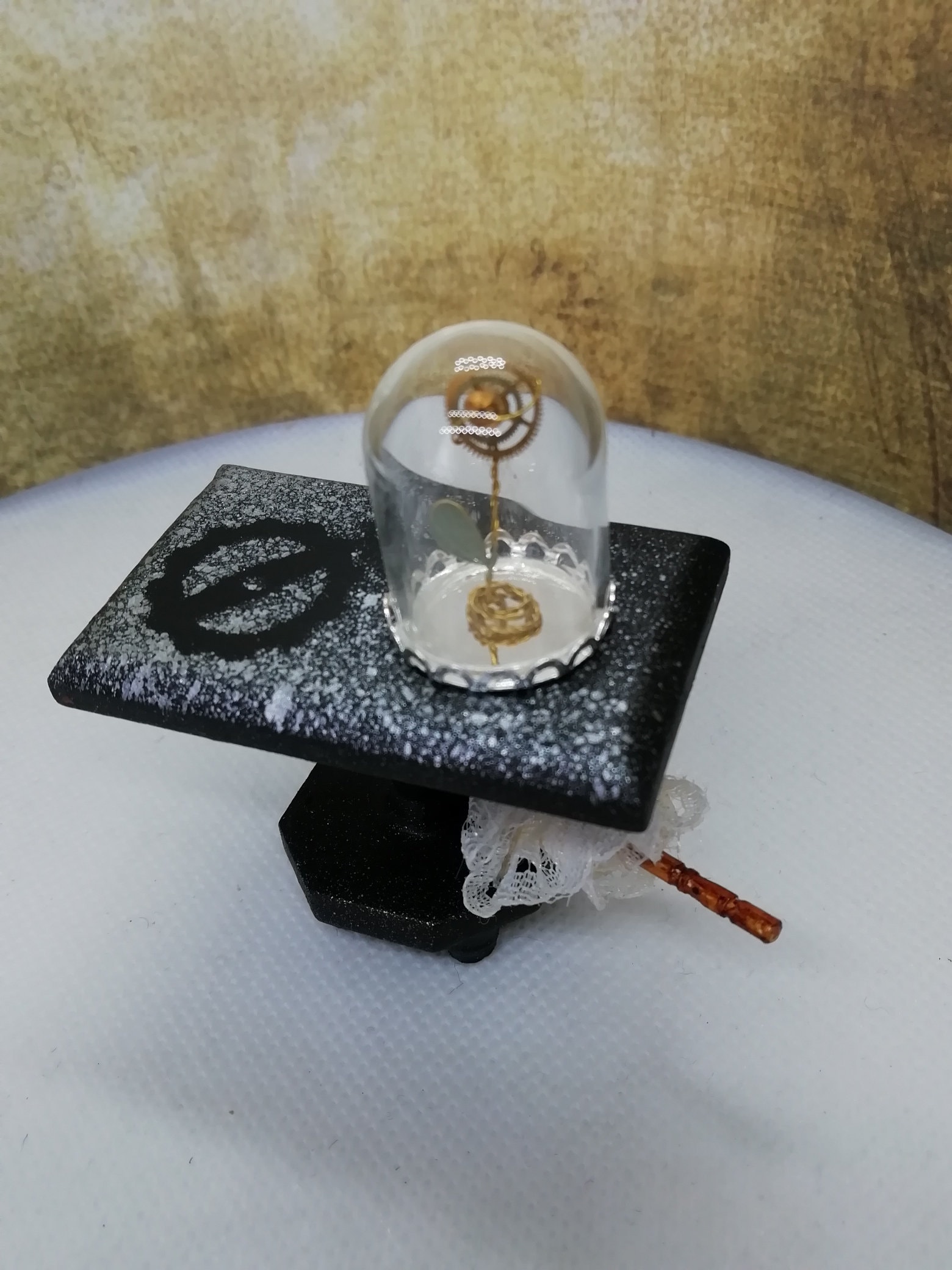 Upcycled side table with lady's accessories.
For sale at www.etsy.com/shop/SteampunkDollsHouse
Price: £11 + p&p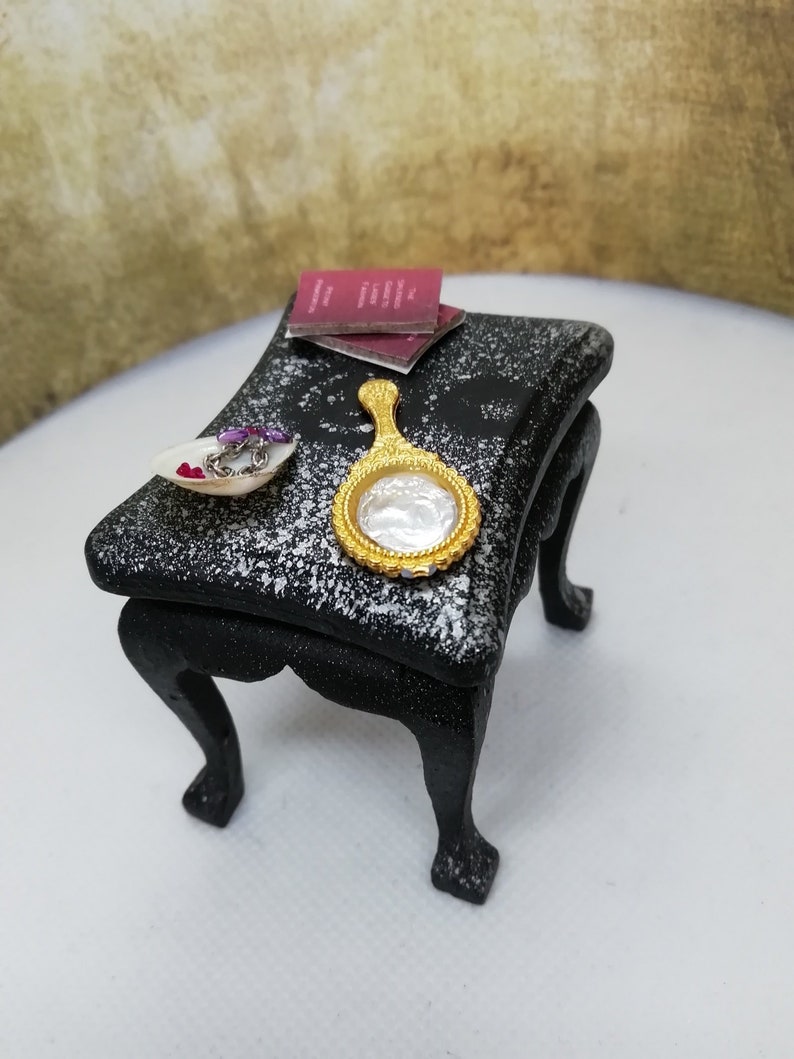 Upcycled side table with lady's accessories.
For sale at www.etsy.com/shop/SteampunkDollsHouse
Price: £9 + p&p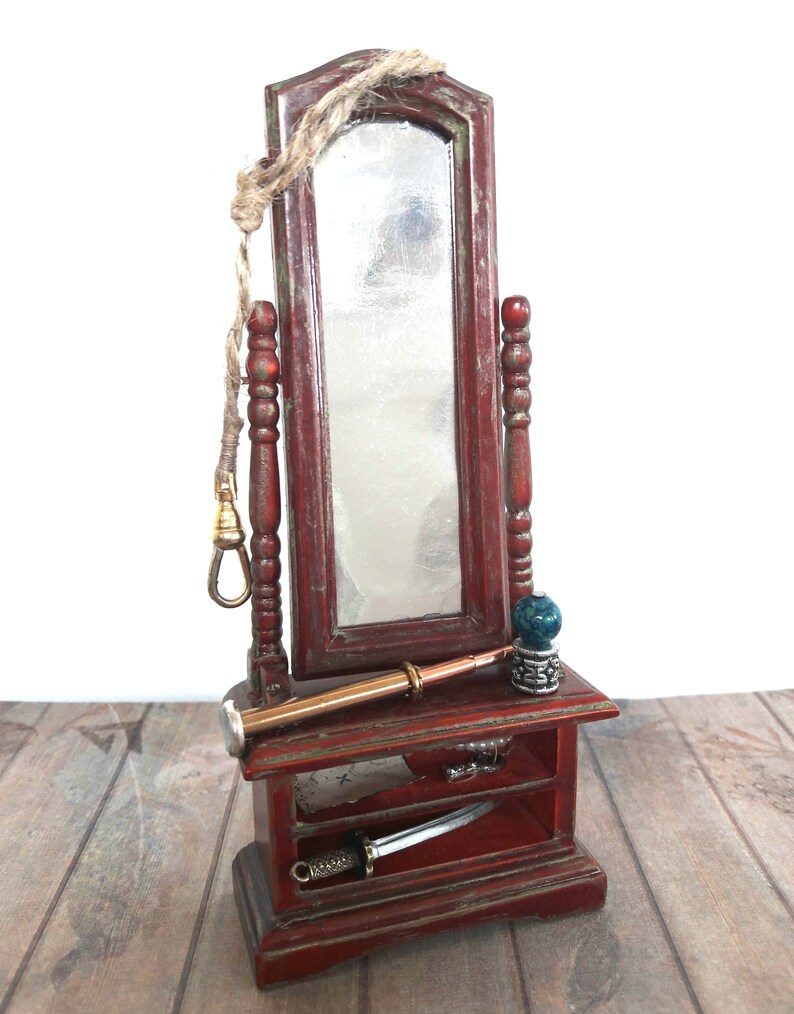 12th scale Pirate's Mirror with telescope, cutlass and other accessories.
For sale at www.etsy.com/shop/SteampunkDollsHouse
Price: £18 + p&p