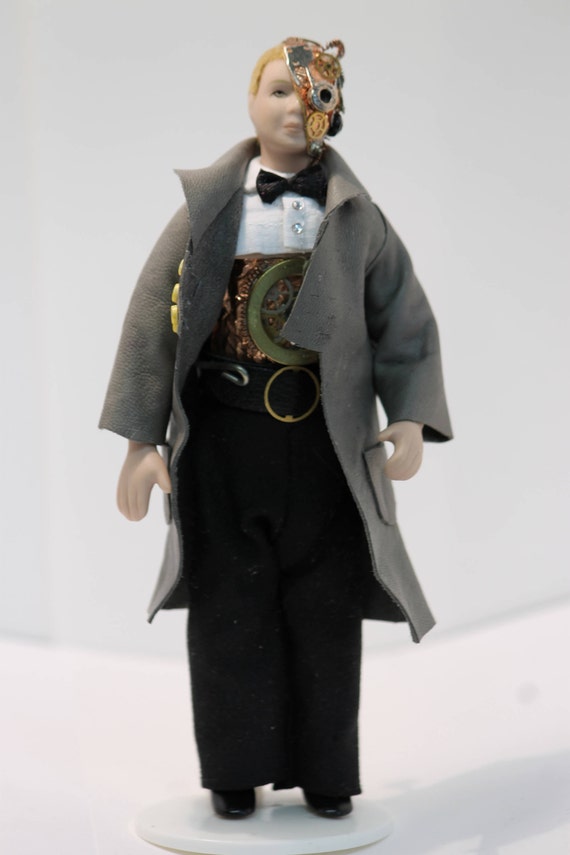 I am Bjørn.  People call me Heart of Glass.  People pity me.  Or they are fearful.  Or disgusted.  A few show curiosity tinged with admiration.
"How does it feel," they ask, "to be part man, part machine?  Do you have feelings?  Do you hate your employer for what he has done to you?  Do you seek revenge?  But then, do you have powers and skills the rest of us lack?  Is it glorious to become part machine?"
So the questions go on, and I am grateful to the enquirers. They are better than the ones who simply shudder and turn away, shaking their heads.
Let me tell you the story – my story – from the start.
I encountered Doctor Kopp when he saved my life.  I was a boiler-man on an icebreaker in the Northern seas.  For long, long shifts I shovelled coal into the great, ravenous furnace that powered the ship.  The owners worked me hard and my body – always thin and long and rather weak – was close to breaking point.
This day I was shovelling, then there was blackness and the next thing I knew was the Doctor bending over me anxiously, pushing up and down on my chest and giving a triumphant cry of "Ja!" as I blearily looked up at him.
It seemed I'd lost consciousness.  The chief stoker had run onto the deck and asked if there was a doctor amongst the passengers.  Doctor Kopp had rushed to my aid.  He tells me that without his intervention, I would have died then and there.
They wanted to put me back to work, but the good Doctor insisted I was to be allowed to rest for some days, until he pronounced me fit to work.  He had my meagre possessions moved to his cabin from my hammock in the engine room.  He cared for me, fed me and mixed potions to strengthen my body.
Soon I began to feel better, but still he would not let me return to work.
"Your heart, my boy!" he would exclaim. "It is sickly. It is not fitted for zis verk. Leave zis ship. I vill give you verk. You vill be mein assistant! You vill say yes!"
I did say yes.  Of course I did.  I had the chance to stop shovelling coal into that great gaping hell hole of a furnace; to become assistant to an eminent doctor.  I owed this man my life, and now he was offering me the opportunity to work with him.  Maybe I could learn from him, study hard, gain qualifications…  I could not express my gratitude and delight.
So when the ship docked at Newcastle, I left beside the doctor and travelled with him to his laboratory.
My jobs were menial, it's true.  I cleaned his equipment, ran errands, acted as receptionist for his patients.  All this I did without complaint.  Also I saw the amazing work he did – creating mechanical limbs, weapons that were grafted onto the very bodies of their operators, even clockwork mechanisms to regulate irregular hearts.  The man was a genius!  Also I occasionally glimpsed the work he did in his private study after dark – the alchemy from that ancient grimoire, but this he tried to hide from me.
Ah!  But now I must stop!  The Doctor has retired to bed.  I have no need of sleep.  I too have secret work to do at night, so excuse me now.  I will continue my story soon.
Bjørn is available at the Steampunk Dolls'House,  along with many other figures and items from these stories.
  Steampunk Dolls House online Etsy shop