Perhaps you recall the airship traveller who accosted Alex, asking to know about the device he carried.  Perhaps you formed an opinion of her – saw her as an interfering busybody?  Nothing could be further from the truth.
Approaching the stranger and attempting to engage him in conversation caused this lady the utmost distress and trepidation.  Rebuffed, she felt her cheeks burn as she moved away, vehemently hoping that none had overheard their conversation – such as it was.
A year before, Katherine would have watched the adventurer silently from afar.  Her upbringing had prepared her to be decorative, to smile, to nod attentively and encouragingly when spoken to and to use these skills to acquire a suitable husband.  He father had sent her to finishing school in Europe with the intention of honing these abilities to perfection.  He regarded it as a sound investment.  He had not, though, imagined that she would gain the kind of education provided by Miss Lucy Etherington.   Nor had he banked on her becoming the confidante of the fiery-haired – and similarly natured – Lady Grace Templer.
Had Alex thought to turn his eyes toward the lady who approached him on the airship, he might have noticed the intricate assemblage of cogs adorning her velvet dress and her fascinator.   He might have spotted that she, too, wore a pair of goggles pulled up upon her head and that the dial pinned into her hair was no mere decoration.  He might – had he not been so keen to maintain his anonymity and independence – have been struck by her beauty, recognised a kindred spirit and embarked upon the most rewarding of relationships.  The universes drop such opportunities into our lives, but it is for us to determine which we will accept and which reject.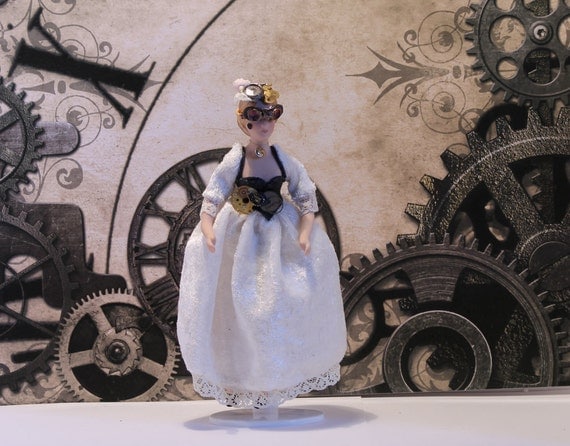 For Katherine, too, is an inventor  – and an adventurer.  As yet, she lacks her friend's courage and tenacity and her tutor's assured and confident manner.  Yet she is their equal in brilliance of mind and innovation.
You, too, have the opportunity to connect with Katherine, and even to enjoy her company.  Find her at this link:  https://www.etsy.com/uk/listing/476770330/steampunk-lady-katherine-dollshouse?ref=shop_home_active_8