Good day to you all.  Allow me to introduce myself.  I am Professor Darius Robottom, known to many as 'Doc' (something to do with resembling a character from some old film, I gather).
I have been – between vital experiments aimed at bettering the future of humankind – watching the twin ventures of Mrs S and her team:  The Steampunk Dolls House Etsy shop and the monthly craft stalls in Somerset where she trades as Steampunk – Shrunk.  It occurred to me that it might be advantageous to join their community at the awkwardly names Steampunk-Shrunk Towers, but I wanted to assure myself that this was a suitably classy establishment for a gentleman of my immaculate credentials before making any commitment.
What better place to look than at the present month's reviews for the shop?   Well, they were charming, and most complimentary.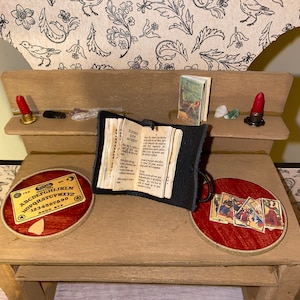 A customer called Sarah sent a photo of three items she had purchased, along with the following five star review:
"I was surprised by how much detail and writing there was on every page! Very well made, looks amazing and realistic!"
That impressed me.  I'm rather a stickler for detail myself.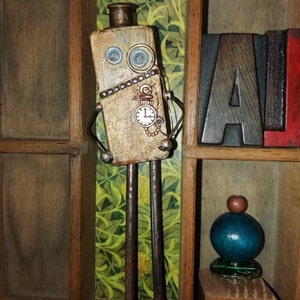 The next review came from a lady by the name of Diane.  She had purchased LG, one of the Offcut Robots, for a very particular – and quite splendid – reason.  Here is her photo of LG in position and her review, again with five stars, is as follows:
"Beautifully crafted item for displaying in a printers tray to represent items that my son enjoyed as a child."
I was gratified to discover that craftsmanship is evidently valued by the group at Steampunk-Shrunk Towers.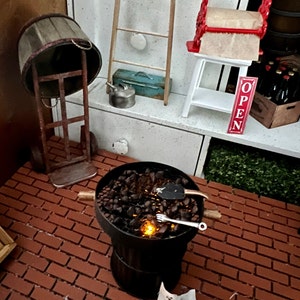 The emphasis on craftsmanship is echoed by the third satisfied customer – clearly a person of considerable talent herself, which adds value to her review.  To her five stars, she added this photograph and the review below:
"I am so thrilled that I found this shop and this piece! The chestnuts roasting over a trash can couldn't be more perfect for my Italian family's shops at their farmhouse. Can't wait to display it in my fall set up. It just adds so much ambiance. It is really beautifully made and was shipped timely and packaged for safe arrival. I will be looking for more unique things at this shop!"
Who could resist visiting Carmela's family farm shops, when that much trouble is taken with the display?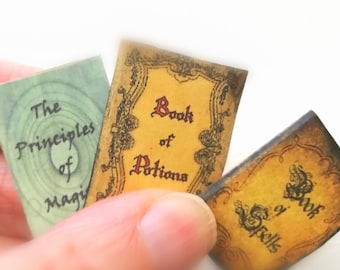 The final review (at the time of writing) is from a purchaser of a bundle of the printable miniature books available from the Etsy shop and craft stalls.  She gave the five stars which seem to be awarded to virtually all the shop's items and commented:
"Great Print, quality item, super cute!!"
All in all, then, I have decided that this establishment meets my very high standards and I am delighted to become part of this community.  Thankfully, there are other creatives to chat with and I am very much enjoying my sojourn at Steampunk-Shrunk Towers.