Allow me to introduce myself – Miss Delores Mayfeather.
Well, appearance is everything, wouldn't you agree?  It's the details that matter and I should never permit myself to be seen in public without looking my best.
I understand from my eccentric but knowledgeable friend Professor Erazmus that in another dimension it is all the rage to produce 'selfies' – images of oneself contained in a small glass device.  Imagine being able to photograph oneself, whenever one pleases!  I feel I should fit well into that culture.  Nevertheless, in mine, I must content myself with 'sitting' (although I was compelled to stand, which was most fatiguing) for a photographer named Miss Podmore at her studio in Lexden Gardens.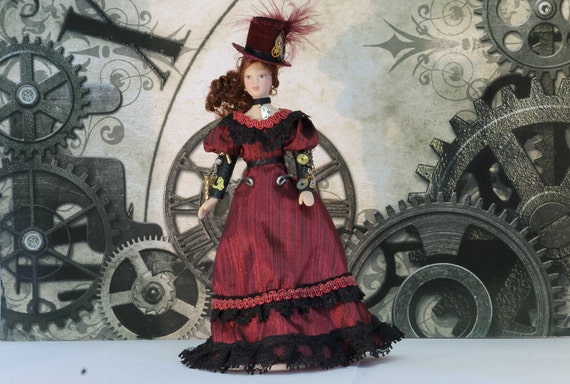 I was delighted to discover a female photographer – such a pleasant change from those rough-spoken men – and this lady was both polite and a master of her craft.
She showed me a range of canvas backgrounds – 'drops', she called them – and allowed me to select a few.  Naturally, I selected images of cogwheels and machinery, the better to display my mechanical arms.
Had you not noticed them?  They are most cunningly designed to augment my natural muscles and to allow me to utilise super-human strength – an ability most necessary for a young lady when walking in the streets of London these days, in my opinion.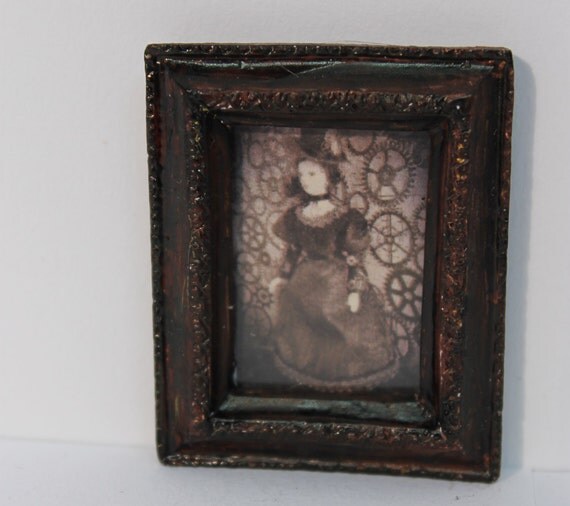 Miss Podmore was kind enough to say that I made a most agreeable subject.  She even asked my permission to display a copy of my photograph in her studio.  Naturally, I agreed.
I shall definitely use her services again.
Should you wish to view or purchase a miniature copy of my portrait, simply click here.
I myself can be found at this address.
So delightful to have spoken with you.  I must now hasten away to oil my arms.  The weather does not agree with them at all.