"Would you care to take some tea, Mr Fotherscue?" asked Alice, sweetly.
"Tea?" Henry remarked abruptly, as if being jolted back from more portentous considerations. "Oh yes, if you wish."
"Darjeeling or Earl Grey?" she persisted.
"Uh, the second one," he responded as he unstrapped the heavy contraption from his back, placed it carefully on the floor and slumped into the richly upholstered chair she indicated.
Delicately – Alice performed every act with delicacy – she poured the beverage and handed him his cup.
"Uncle Ambrose will be here shortly," she smiled. "He had a few errands to run."
"Right you are," said Henry.  Then he stopped and looked at Alice with a degree of interest which had hitherto been lacking. "So you are Ambrose's niece? Do you live with him here?"
"I lost all I had, including my parents, in the Resplendian Uprising when I was just fourteen.  Uncle Ambrose was kind enough to take me in.  I act as his housekeeper, and his workshop assistant, when required."
She didn't add that this service had only been required on a single occasion, and then only for approximately six minutes, when her uncle had needed someone to turn a wheel while he checked a mechanism from beneath. Normally he allowed no one near his workshop – not even to dust.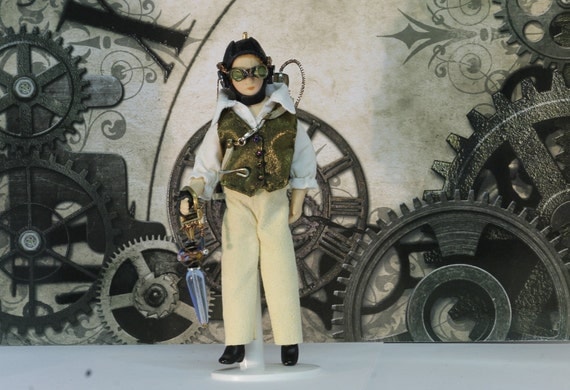 Henry Fotherscue looked duly impressed.
"You are indeed fortunate to live with such a brilliant inventor. Are you, then, familiar with this device?"
"It's the Temporal Transformer," Alice replied, in as casual a tone as she could manage. As luck would have it, she had been eavesdropping from the drawing room on the day Henry had first collected it from her uncle, and had overheard a good part of their conversation.
Henry nodded. "It's been playing up," he stated. "I think maybe the elephant was a mistake – in more ways than one."
"Elephant?" Alice enquired, with a slight gasp.
"Hmm. Ambrose warned me not to attempt a transformation with anything too large. But, I mean to say, how large is large?  I'd avoided bridges, airships, buildings and so forth, but the locomotive had worked just fine. You should have seen the people's faces when it appeared in the middle of a market in 1542! The elephant, though – well – not so easy to control."
"I'm sure," murmured Alice, weakly.  "So – forgive my ignorance, Mr Fotherscue – but when you make a temporal transformation, do you then travel with the object?"
"Well obviously," Henry replied. "How else could I bring them back?"
"Oh yes, I see," lied Alice, flushing slightly.  "More tea?"
"Perhaps," he said, absentmindedly.  "The thing with an elephant is, you can't tell what it's going to do from one moment to the next. Not at all like a machine. And the transformer hasn't been the same since.  I do hope Ambrose can fix it."
'So do I,' thought Alice, grimly. She wouldn't have wanted to be in young Henry's shoes if her uncle's prize invention had been ruined.
If you would like to become better acquainted with Henry and the Temporal Transformer, they are on view at the Steampunk Dolls House Shop.
Click this link to visit him:  https://www.etsy.com/uk/listing/480727524/steampunk-explorer-henry-dollshouse?ref=shop_home_active_13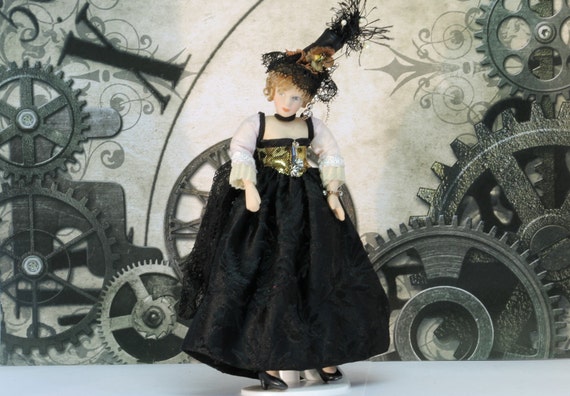 The lovely Alice can be found at this link:  https://www.etsy.com/uk/listing/494223091/steampunk-lady-alice-dollshouse-scale?ref=shop_home_active_11
As for Ambrose – the inventor of the machine – he, too, is available there to admire, or purchase.
 We hope you will enjoy discovering the remaining delights at the Steampunk Dolls House here:  https://www.etsy.com/uk/shop/SteampunkDollsHouse